A Towable Trailer That's Both a Camper and a Boat – Sealander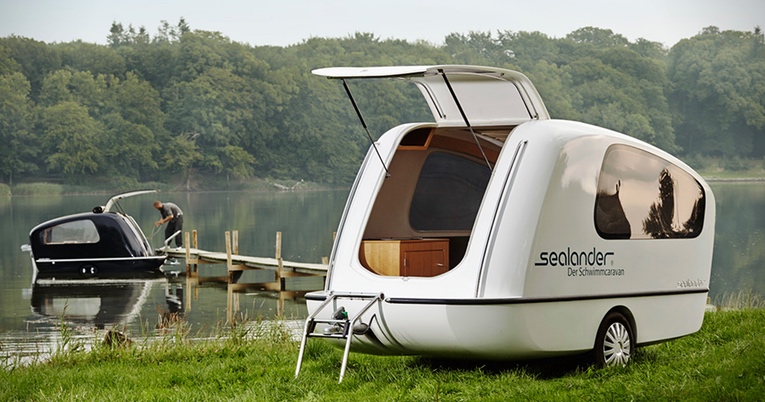 Traveling by land or sea each has its benefits. If you ride a boat, you can see beautiful views of coastlines and feel closer to nature. If you drive a motorhome, you can travel across the continent and always have a comfortable place to stay.

But which option do you go with? Buying both is plain expensive, and if you can afford both, chances are your land and sea palaces will cost a fortune to maintain.




That's where the Sealander comes in. It combines a luxury caravan with a yacht, letting you rule the roads and waters in style.
Traveling with the Sealander is a breeze. Simply attach the caravan to your car with the trailer socket, and it's your personal hotel on the road. Remove the car attachments and you're ready for the ocean!
Its lightweight design, mixed in with the quality of luxury boat-building, gives you the freedom to go anywhere you want to go with no worries.
The interior looks like it's from a yacht fit for A-list celebrities, perfect for relaxing in pure elegance. Yet the Sealander is still practical—the table and benches fold out into a bed for overnight trips or just a quick nap on the road.
If you want your own luxurious Sealander, contact the company on their website for a quote.
It is available in Canada starting at $27,250 CAD ($20,500 USD). The full price list (in Canadian dollars) can be found here.
Check out this luxurious traveling trailer in action below!
Comments