These Silicone Stretch Lids Will Keep Your Food Fresh Longer And Prevent Spills
It can be hard trying to keep food fresh sometimes. Whether it's left overs or just some ingredients laying around after you finished cooking a delectable meal, the Silicone Stretch Lids from ModFamily will keep your food fresh longer and prevent spills from happening.




The airtight seal will ensure that your food is fresh for the longest period of time.




Whether it's a big container or a small container, the stretchy silicone lid can expand to fit various container sizes and shapes.


The Silicone Stretch Lids can be used for containers, cups and even directly over food items.
The lids are made of extra thick silicone that is durable and will not tear or warp. This means it can be used over and over again and can be cleaned using a dishwasher.
You can purchase a pack of 7 Silicone Stretch Lids on Amazon.
These are the sizes that come in the pack:
9.1 inch diameter: stretches to 12 inch diameter
8.3 inch diameter: stretches to 11 inch diameter
6.5 inch diameter: stretches to 9 inch diameter
5.7 inch diameter: stretches to 8 inch diameter
4.5 inch diameter: stretches to 6 inch diameter
3.7 inch diameter: stretches to 5 inch diameter
2.8 inch diameter: stretches to 4 inch diameter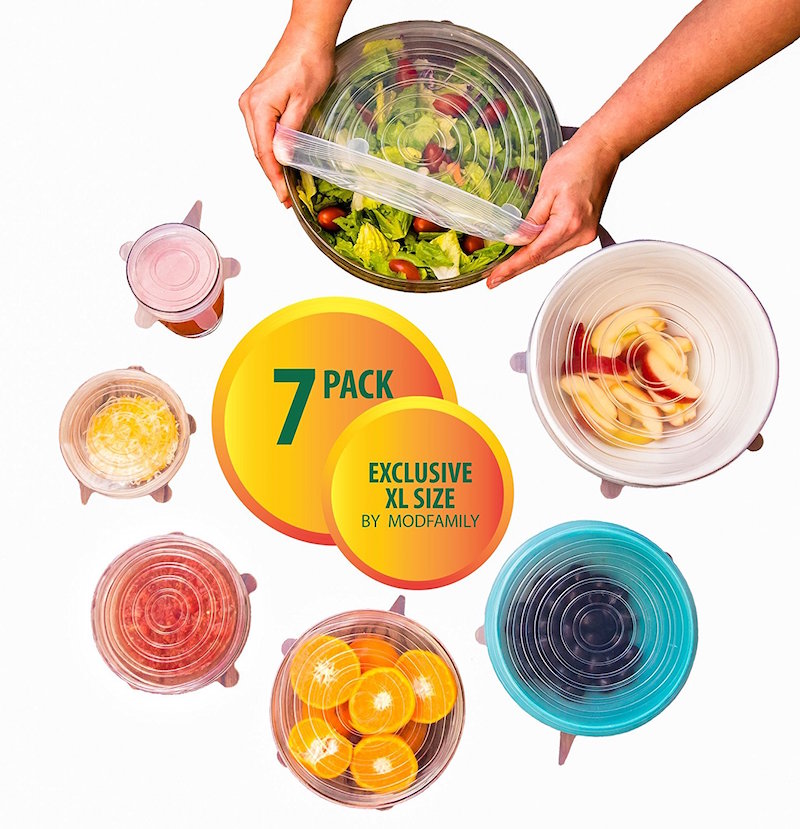 Where to buy
Comments