FieldCandy – Creative And Unexpected Tent Designs
When you go camping this Summer don't just sleep in a tent, sleep in a tent that shows off your appreciation for art. Field Candy is a real cool company from England who has collected work from 25 talented designers and is showcasing it on camping tents. Several have been shown at galleries around the world, sold in charity auctions, and held in private collections. So by purchasing one of these you know that you are acquiring a unique piece of art that is both practical and rare.
But besides being nice to look at, these 2-person tents are quality in make from pole to peg and perform to the same standard of an expedition tent. The outer flysheet is 100% waterproof, UV fade resistant, fire retardant and the cotton interior insures no annoying condensation will build on the inside. All materials are responsibly sourced and high specification to withstand extreme weather conditions.
What a Melon – $655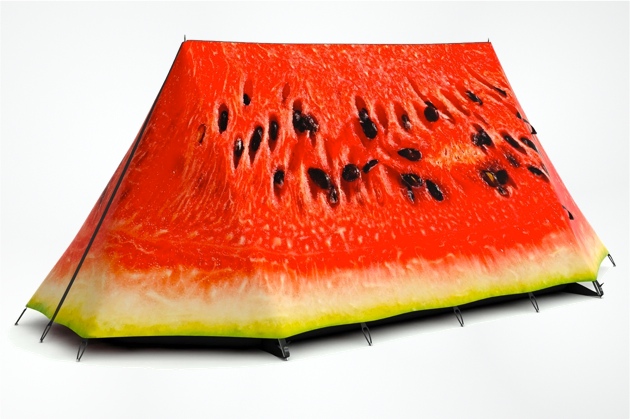 Get a Room – $655
Picnic Perfect – $655
Cheese Please – $655
Animal Farm – $655
Wish You Were Here – $655
Fully Booked – $655
Shed – $655
Out of a Suitcase – $655
Don't be a Leopard – $655
Bricks and Mortar – $655
Field Monsters – $655
By the Light of the Fire – $655
GlastoCows – $655
The Grass is Always Greener – $655
Big Top – $655
10,000,000 Fireflies – $655
Circuit Board – N/A
Strawberry Surprise – N/A
Sweet Dreams – N/A
Where to buy
Comments